Other RCSP secrets you should know!

THESE ARE THE TRUE FORM OF THE RCSP AGENTS.

You will believe that we are surrounded. Be wary at all times, and don't forget the donuts.
Their true form is that of a six foot toy soldier. Proof indeed of the agreement between them and a major toy company based out of Denmark.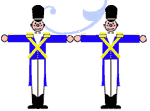 The RCSP are now soliciting people for their favorite recipies. Please, no cheese puff recipies, (they like the store brands).

The truth is in here, somewhere, somehow, someway.
Believe, believe, BELIEVE!!!!!!!!!!!